Book your FREE Clarity Call and let's find out if this is the one of a lifetime opportunity for you!
Tired of compromising your life??
And you just know deep in your core,
that you are meant for something more!
The Spiritual Coach Education
Is for you who just know in your gut that you are meant for something big, but haven't quite found your voice yet. 
You have a huge passion for helping others, and loose track of time whenever you dive into self development.
You have tried a ton of courses but something is still missing, then I would love to invite you to unleash your souls magic and step up as that unique and empowered coach that you are born to be.
Yes that's right, your name is already written in the stars, and it's your time to shine!
Spiritual Coach & Business Certification
PLUS Includes LIFETIME access to The Soul Tribe of Business & Mindset Membership on your own APP.
Shares her success story & gratitude, made in 1 day;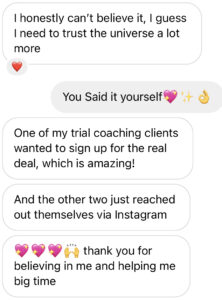 What is The Spiritual Coach about
Opening your CLAIRVOYANT, BUSINESS & MINDSET skills.
Keep upgrading your next level life aligned with your business.
Receive the freedom and abundant life you are meant to have.
Creating the impact that your soul truly is calling for.
How is the program serving
ONLINE MODULES OF VIDEO TRAINING & LIVE SESSIONS
WORKBOOKS FOR DOWNLOAD
1 LIVE + 1 Q&A PER WEEK
ACCOUNTABILITY & SUPPORT COMMUNITY
LIFETIME ACCESS TO LEARNING APP & GROUP
As soon as you sign up to The Spiritual Coach Education, you will get access to your own online portal which already houses 1 of many bonuses and your future learning moduls, plus access to our private Facebook Group to connect with other members of The Soul Tribe.
There are then 2 live trainings per week, 1 learning session and 1 Q&A call. We also offer monthly workshops, sometimes with guest experts on topics that will support you within your coaching business. 
PLUS, you get LIFETIME ACCESS to the online modules, meaning you can come back to the learning materials as often as you need to!
PLUS PLUS, you also get LIFETIME ACCESS to the community of likeminded in The Soul Tribe, for constant upgrading support. 
What is included in The Spiritual Coach Education
Within the Spiritual Coach Education you get access to clairvoyant skill training, coaching methods training, business building and business coaching in the membership towards the business set up that works and aligns with your soul purpose. As well as the online content to support you, which includes video trainings and downloadable workbooks, you also get access to weekly coaching calls to have all of your business questions answered. 
"success doesn't happen over night if you believe that,
but it definitely can if that's your belief" – Maiken
Now this is not to brag, but to tell you that's it's all about your beliefs.
The best part is that we can do something about it!
I highly recommend that you don't do this on your own for 2 factors;
if you find your way to traumatic memories, you need a proffesionel to pull you out of the state.
a professional see you with clear eyes, and see things you can't recognise on your own.
With these 2 factors in place you will feel your transformation run a lot quicker AND easier.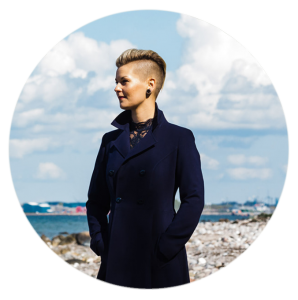 The 3 pillars of The Spiritual Coach Education
Body:
Modules and mindset training in how to understand your body in another level, and reframe it from the subconscious mind towards your goals.
The understanding in how to attract what you really want, instead of repelling and push yourself further away.
Mind:
Modules and training to reprogram your mind on all 3 levels of being, in order to quite the voice from your ego, accept your past, understand your current situation, and get the POWER back to rewrite your future. Get rid of the mood swings and raise the bar in your life.
Soul:
Modules and learning materials to open up your clairvoyant abilities, develop your skills, and protect your selv in the outer world, business and life. Finding your true soul call and make it as a living, in alignment with your heart. 
Ongoing Clairvoyant & Business Coaching
Identifying your true soul mission
developing your clairvoyant abilities 
protecting your power
elevate your business
upgrade your life standart
soul tribe support
Social media marketing
soul sales
how to put together your service 
how to make it work for you
Modules, exercises & weekly Q&A calls PLUS monthly events to keep elevating your mindset, support your new identity & overcome your blocks so you can live out your full potential as a life changing & world impacting online coach!
How the content is delivered
All the material, exercises & downloadable workbooks accesses via online web app.
A private Facebook group for daily support and accountability.
2 weekly live calls in the community for learning and Q&A.
The total value of The Spiritual Coach Education includes;
The Spiritual Coach Certification 
Clairvoyant skill training
In dept business building
Online modules & Workbooks with lifetime access
2 live coaching calls per week
monthly workshops with guest experts
Lifetime access to our Soul Tribe community 
Total Value = 18.000$
However, right now you can pre sign for the beta program for just
8.991$
And get all these bonuses;
Bonus 1:
7 week EMPOWER your feminine coaching skills course
Right away challenge to get you startet or going as a coach in the feminine energy. To keep you in your power until the Spiritual Coach Educations starts. Straight dive into the course that will pull you out of the hamster wheel and match you right into your dream reality like a magnet. 
Get ready for the makeover of your money mindset in the first workshop after education start. With different mindset techniques, coaching tools & printable workbooks, this will be the future go to guide.
Bonus 2:
Money Mindset Makeover workshop
Bonus 3:
Weekly 1 on 1 coaching calls with Maiken
Get weekly 1 on 1 coaching with Maiken, so you can go in dept with exactly your business, and get even further along in just the 6 month. Please note that this is very limited VIP spots, so make sure you book a call before payment, if this is the number one reason why you are in.
50% discount PLUS the bonuses closes the day before start or when all spots are taken
Book your FREE Clarity Call and let's find out if this is a HELL YES for you! And the payment rate will be a fit.
Frequently asked questions
Do I need to complete the certification?
If you are wanting to become a certified coach and receive a certification for your coaching then you will need to complete the certification process. It isn't something to worry about as you will have all of the support you need through the program to help you feel confident with this process. If the certification isn't something that you are needing or thriving for, then it is totally fine to, you don't need to take it.
How much time do I need to commit?
The beauty about that you are on this page at this time, is that right now it's the BETA program. There by it's a once in a lifetime chance to get all the content LIVE & personal questions answered. We start together the 26TH September, and get through the program in 6 month from that date. It will still be in your pace. Obviously the more time you are able to commit to the program, the quicker you will be able to get your business off the ground but everyone has different schedules. Also, you get LIFETIME ACCESS to the online modules so you can come back to them time and time again.
When can I start?
As soon as you had a clarity call and are signed up for the education on the platform. You can dive straight in to the bonus material if you can't wait for the education to start at 26TH September. Once payment has been made you will be sent over your welcome materials plus access to the Facebook group and details for the live coaching sessions. 
What if I need 1 on 1 help?
There is a lot of support and help in the community and live calls. if that's not enough for you, then there is very limited VIP spots, including weekly 1 on 1 sessions, for maximum support and troubleshooting. It's for you who wanna make sure you thrive from day one.
Any more questions?
If you have a question that you cannot find the answer to on this page, the please send an email to and we'd be happy to help you!